We are experts in lighting control and have been installing lighting control systems in Leeds, London and Cheshire in the UK for over 15 years now, with a string of awards under our belts!  Perhaps you are looking to have a lighting control and home automation system installed (without having to rewire your house) and you're doing a bit of research.  Perhaps you have spoken to a professional who has mentioned Lutron and its a new brand to you and you want to know more.
Although Lutron is a US brand (and we would tend to support UK brands where possible) and not the cheapest on the market, their products are still one of our preferred systems and the relatively new RA2 Select (pronounced 'raa two') means that Lutron systems are more accessible to more people.  We'll explain why.
Firstly, a bit of background about Lutron
Lutron were set up in the US 1950s – in fact, their founder Joel Spira invented the first home dimmer light switch.  In the spirit of their founder's innovative spirit, the company has continuously invested in research and development, keeping them at the forefront of technological advances.  In the early 90s, they took the natural step into automated and motorised shading systems that work in synch with the preset lighting scenes. It's not just tech that Lutron focus on however, they have worked hard on allowing flexibility and customisation with styling. Their products are not the cheapest on the market but certainly, one of the best you can get for quality and their customer support is excellent.
Introducing Lutron RA2 Select
The Lutron RA2 Select was released in 2017 and has been a game changer for lighting control and home automation installers in the UK and worldwide.  Previously, installing a whole house Lutron lighting control system required specialist wiring so was not suitable for retrofit projects (ie anything other than new-builds).  Now, the client can have a wireless system installed, without the need for pulling down walls and adding new cabling, meaning lower costs but still the same reassuring quality expected of the leading brand in lighting control.  The system allows the use of up to 100 devices but this is scalable – you can add to the system to allow more devices if you require down the line.  You control using the Pico remote controls, voice control, the Lutron app on your tablet or phone or you can have a sensor installed so that the lighting goes on automatically when you enter the room and goes out when you leave.  Great for energy efficiency.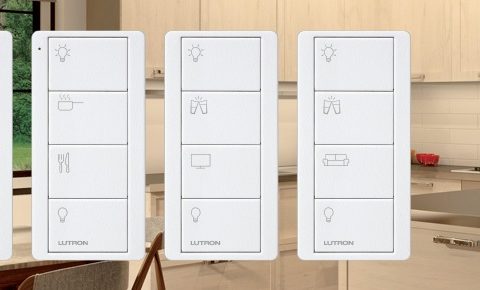 Stylish customisable accessories
We love the look of the Lutron keypads and remotes which come in different colours and finishes, which makes this system also a favourite for the interior designers!  Lutron also offer a personalisation service to suit your lifestyle or any combination of uses such as 'movie time' or 'entertain' or even a scene that is unique to your family.
Best quality automated window treatments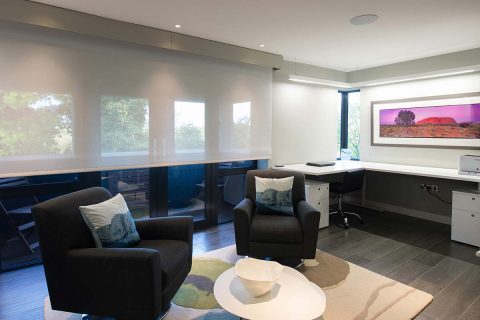 Lutron are specialists in automated blinds and therefore it's natural that the system should integrate seamlessly with a range of blinds and drapery systems in a huge range of over 150 fabrics, again very popular with the interior designers.  With the press of a button or a voice command, you can easily set the whole scene and ambience.  Lutron blinds have a reputation for quality with quiet motors and long lifespan.  You can opt for battery-powered blinds to reduce unsightly wiring and if you have a row of blinds, they will work perfectly in synch with each other. Imagine how easy this makes preparations if you have friends for dinner or an impromptu visit.
Integration with other tech
Lutron RA2 Select allows integration with other leading home tech brands such as Sonos, Nest, Honeywell and Amazon Alexa. This means you can use the same keypads and app for sound and temperature.  The whole ambience can be fine-tuned using one system allowing you absolute convenience and comfort in your home.  The beauty of the whole system is that you don't have to do it all in one go, you can add or tweak the setup whenever you like, bit by bit.
Mobile app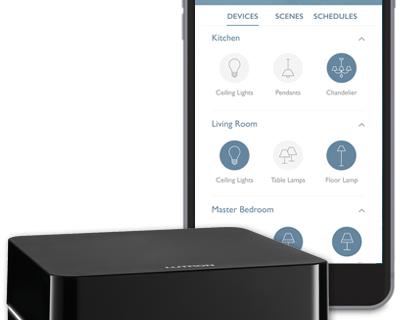 Every system has an app these days and Lutron were never going to fall short here.  The Lutron RA2 Select app is well designed and has an intuitive look and feel.  You can control your lighting and shades but can also include your audio and temperature from here.  The 'Schedules' feature means that you can preset the lighting/shading and temperature based on your typical routines, such as when you wake up and go to sleep or when you go to work.  If you're away from home you can still control all of these elements from the app, great for security and peace of mind.
Support
Lutron is a large company with thousands of employees and offices in every continent in the world but despite its size, they still manage to offer the kind of personalised customer support service that you would expect from a smaller local company.  We rarely have any problems with any of the Lutron systems we have installed but if we have, there has been a very quick response from Lutron to sort it out.
Price
Lutron isn't cheap (reassuringly expensive?) but actually, the RA2 Select system is competitive with similar systems from other brands and in some cases is cheaper.  We think it's a fair price and good value for money considering its quality and reliability.
So there you have it.  Lutron has been going for nearly 70 years and their excellent company ethos for quality and innovation make it the leading brand in lighting control and rightly so in our opinion.  The Lutron RA2 Select is affordable, stylish, customisable and basically very cool.  Take it from the experts!
You can find the Lutron RA2 Select brochure here
If you want to discuss your lighting control project with one of the team then Lynn would be the one to contact.  She's been designing and installing lighting control and automated blinds/shades/drapery systems here in the UK for over 15 years for both commercial and residential customers and she knows her stuff!  You can reach Lynn by emailing lynn@clearlyautomated.co.uk or by calling the office on 0113 898 0078.