In these radically different times we are spending far more time at home and even when the time comes when we're allowed out more, far more of us are likely to be working remotely, often further away from the cities and towns. So it makes sense that many more of us are looking at improving our home entertainment.
The good news is that the technology is there to make your home transform into a hub of awesome entertainment. Is it time for you to ramp up your home entertainment to new levels? Read on.
Home cinema
We all love going to the cinema – that fully immersive experience where you get taken away from your reality – it's the perfect way to escape and a form of entertainment that can be enjoyed by the whole family. Let's face it, there is very little that can draw the kids away from their phones these days, a home cinema will do this!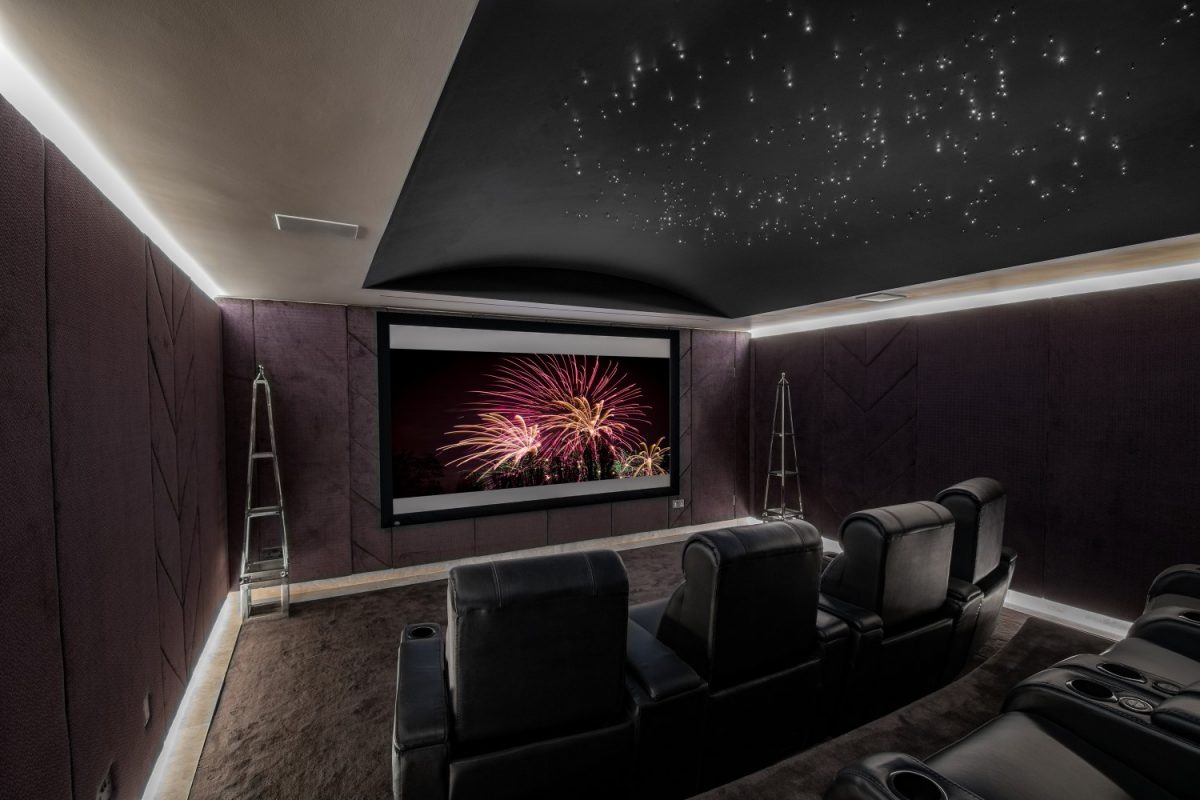 The first thing you will need is a space for your cinema room, but it doesn't have to mean losing a room in your house. You could have a cinema room installed in the loft, garage or even an outhouse! The space needs to have enough length to allow the viewers to have an appropriate distance from the screen, however, the quality of short throw projectors are improving year by year, making this less of an issue.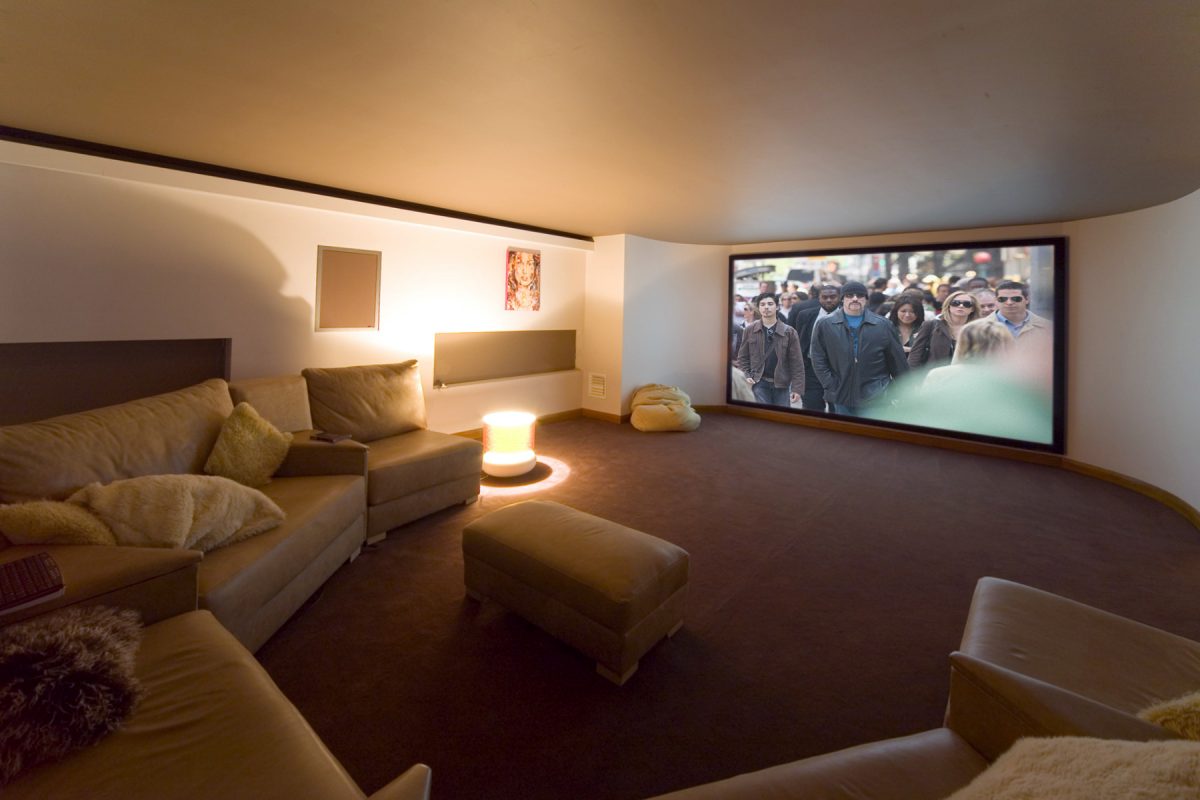 A bespoke cinema room might have a perforated screen, hidden speakers, stepped cinema seating and possibly a separate projection room. Often, interior designers would aim to make the most of the ambient light in a room, but in this case, it's important to be able to eliminate light. Blackout blinds would need to be meticulously installed if there are windows in the room. For the ultimate in luxury and comfort the lighting and blinds could be automated to create the 'scene' at the touch of a button or with a voice command. 'Alexa get the cinema ready' dims the lights, closes the blinds and activates the projector.
If you are going to stream to your home cinema from the internet, such as from Netflix or Amazon, you will need to make sure you have a fast and reliable broadband connection. There's nothing more frustrating than buffering during your viewing time. At the time of writing you can't do better than Fibre Broadband (most residential customers would go for FTTP, explained here) – availability and cost depends a little on where you live. Generally, the more rural you are in the UK, the lower speeds you will achieve.
A dedicated home cinema room obviously isn't going to be cheap, to be honest the sky is the limit! It depends what renovations are needed, the size of the room and the quality of the systems. To give you an idea, the cost could start at around £20k. Just imagine how this would transform your leisure time and would add value to your property.
An alternative to a dedicated Home Cinema room would be a dual purpose room. For example, how about an office that doubles up as a media room, with a large screen and surround sound hidden behind joinery? The possibilities are only as limited as the imagination.
Gaming
As with the home cinema, if you are a serious gamer then you may want to create a dedicated gaming room, taking the experience to new fully immersive levels. The perfect escape from life's stresses!
You won't need to find as big a space as you need for a home cinema necessarily – but it shouldn't feel claustrophobic. You'll need the space for all the equipment and multiple players so family and friends can join in. Gaming doesn't have to be a solitary activity!
You will need to decide what your budget is but the priority should be the quality of your speakers and tv or projector. Decent sound and vision will really create an atmosphere of tension to enhance your gaming experience. Wireless and hidden speakers, and bespoke joinery will mean a slick and uncluttered look and you will need to have a good quality wifi router connected to the console to make sure you have a reliable internet connection.
As with the home cinema, if you want the best, you may opt for a fully automated setup, with automated blinds and lighting control, even temperature control! You won't want to leave.
And then there's the gaming chair which is not only important for the style and look of the room but also for back health. There are many shapes and sizes and different fabrics available.
Home Gym
A workout will improve your productivity and wellbeing and if you have a room dedicated to working out at home, let's face it, it's more likely to happen! At the moment we can't go to the gym and as a result, sales in home gym equipment have soared. If you set up automation in your home gym it's going to be even more slick, even more productive and will look stylish.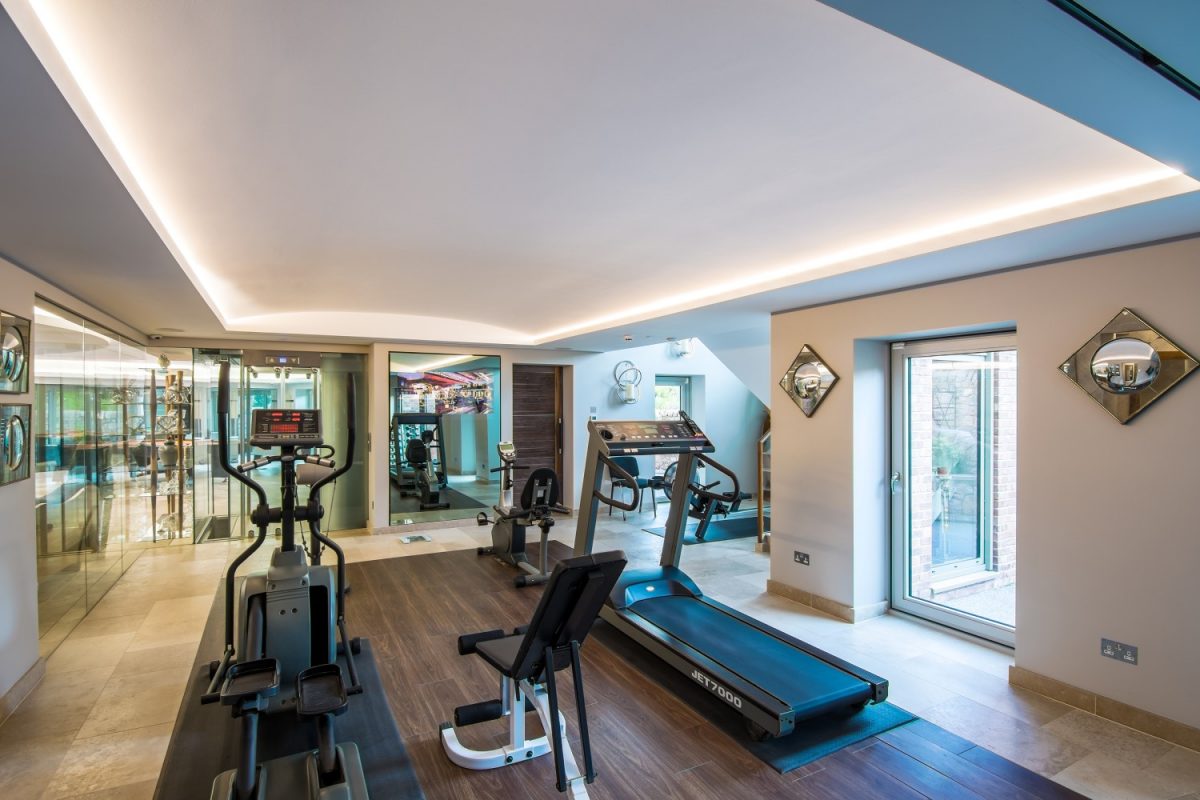 The latest development is smart fitness equipment – a wonderful addition to your automated home. Whether rowing, running, weight training, yoga or cycling are your thing, there's a smart version with a screen to suit you. The idea is that you can stream the workouts (often with scenery!) that suit your level and goals. The machine can monitor your fitness It's like having a personal trainer at home. To get more info check out this article.
Of course, if your thing is to watch TV or stream YouTube classes then it makes sense to have a decent tv installed. A decent TV is a good idea in a gym, we like LG. If you have automated temperature control and lighting control installed it will really add to the comfort and ambience. A voice activated set of speakers, such as the Sonos Play, would be perfect if you like to work out to music.
Home Bar
We're in lockdown at the time of writing (please God not for much longer!) so all the pubs are shut. Here in the UK this is a big deal! So the 70s style 'bar at home' has had a come back in fashion. This room should be all about fun, relaxing and feeling separate from the work areas of the house. As with all the other rooms in this article, it could be in a spare room, loft, garage or garden room.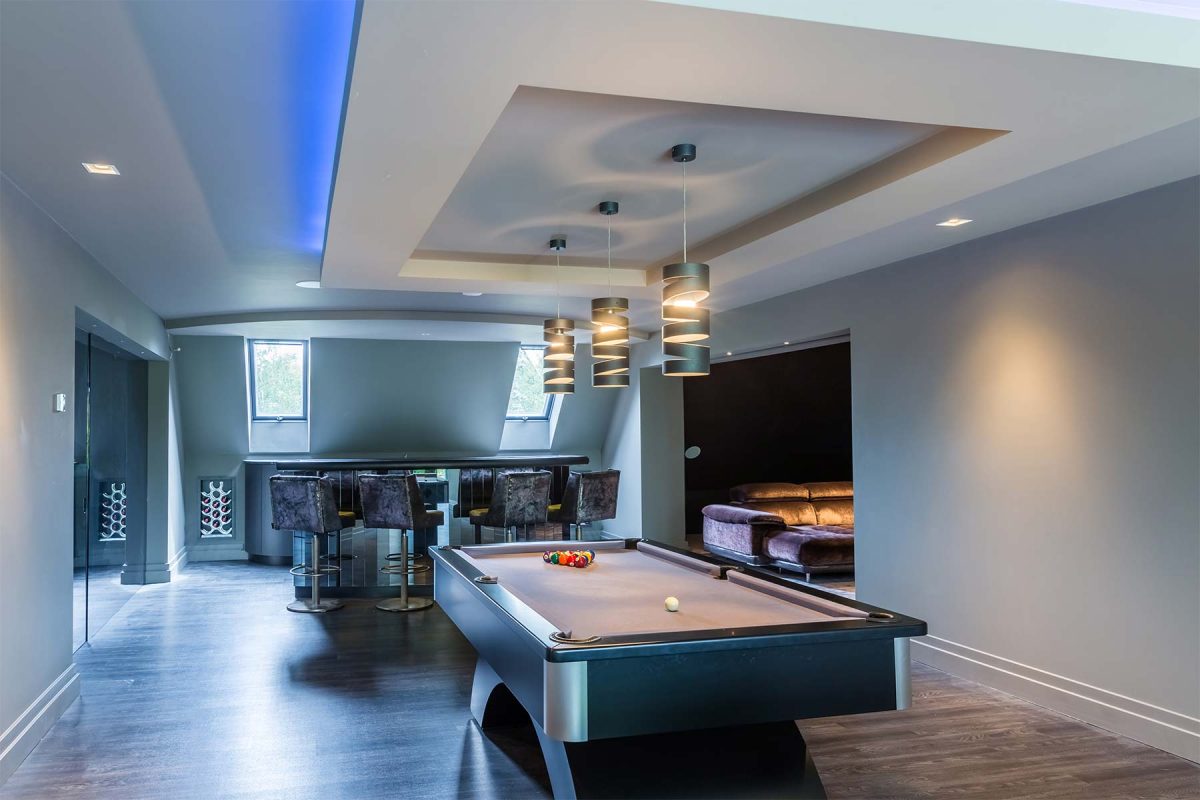 If there's anywhere you can go a bit more crazy with your interior design then it's got to be your home bar! It should be a personal expression of you – bring in some nostalgia, your favourite tipple, family pics and just about anything that you think is a bit of fun. Anything goes! There are some great fun examples of lockdown bars here. And for the summer, here are some inspiring award wining examples in the garden.
So what sort of tech could enhance your wonderful home creation? Well, for me it would have to be all about the sound and light, possibly a TV or projector too. I would opt for smart lighting by, a Lutron lighting control system would be perfect (only the best!), with pre-programmed lighting scenes to suit the mood. I would pick my speakers depending on the decor. Many retro looking speakers are available on the market if that's the look you're after but we are a bit obsessed with the incredible Amina invisible speakers that can literally be plastered into the wall or ceiling. Want to know how? Check out their website uk.aminasound.com.
Then it might be nice to have a decent TV in there to have music videos playing in the background or sport. Perhaps a nice automated TV cabinet to reveal/conceal your TV at the touch of a button. Check out these from Future Automation, the best out there!
If you would like to discuss your project with one of our experts please give us a call on 0113 898 0078 or email info@clearlyautomated.co.uk.