You may have heard of the phrase 'media room' and be wondering what it is.  It's not a phrase that is used too often (yet!) amongst the general public so it's not surprising you haven't heard of it.  But we use it every day in our work and it's starting to spread out as a mainstream phrase.  Our clients often ask us 'what is a media room', so it's a question we're used to answering.
Is a 'media room' just a 'TV room'?
No.  A media room is generally a multi-use entertainment space which will include a large TV, audio and seating but could also include a whole lot more (it's as limited as your imagination!).  The emphasis would be on quality media installations with comfortable seating and lighting to enhance the experience.  It's going to be a sociable space that you may incorporate with other forms of entertainment such as pool or table football.
What might you find in a media room?
You may wish to incorporate luxury touches such as lighting control and automated blinds so that you can set the scene with a touch of a button.  Your media room could double up as a sitting room, be adjacent to a home gym or swimming pool, it could even be an outside covered area if you live in a warm enough climate (probably not hear in the UK!).  You are likely to make this space fit with your interior (or exterior) design of the rest of your house, you may even ask an interior designer to assist you with your media room.  You may want to hide the tv behind artwork, in a bespoke cabinet or you could even invest in a tv that doubles up as artwork!  (Who knew?)  Finding it hard to picture?  Here are some examples of media rooms that we have worked on here at Clearly Automated.
Examples of media rooms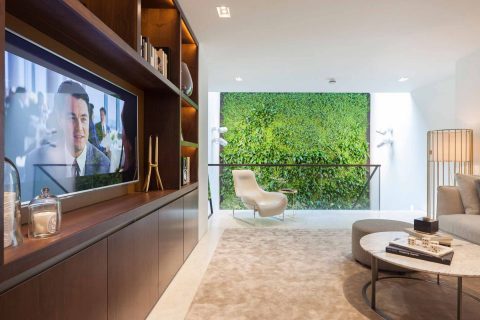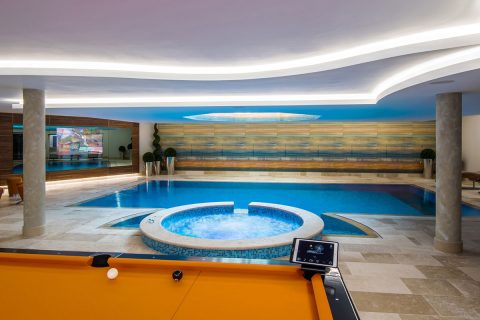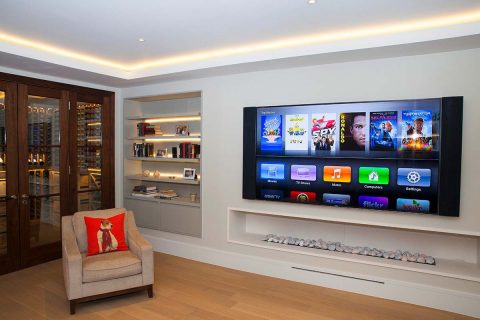 I guess you could say that a media room isn't the same as a TV room but it has replaced it – now with the amazing audio and visual tech available it just doesn't seem to do it justice to call it a mere TV room!  With the option of streaming, surround sound, hidden speakers, great gaming options, 4k TV, subwoofer, voice activation (the list goes on) we think a new phrase is fully justified.  Entertainment in the home has just got better and better in recent years and if you have teens they will love you for it and might even leave their rooms to join you in the family 'media room', let's face it, it takes something special to do that!
Is a 'media room' a 'home cinema'?
Not really.  This is another common question and there isn't really a clear-cut answer – there are grey areas and overlaps, not everyone agrees either.  However, we are clear how we distinguish the two so here's our answer.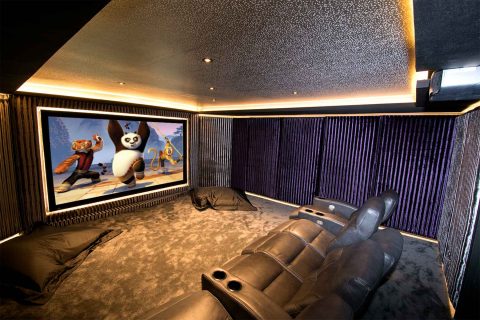 Generally, we tend to refer to a home cinema as a room dedicated to the full-on cinematic experience, just like going to the cinemas but in your home – the height of luxury.  It would appeal to someone who wanted to have the wow factor in their home.  It might be about impressing their friends or it may be something that a serious film buff would want at home to get the whole experience.  Like media rooms, home cinemas definitely work to get teens out of their rooms!  It wouldn't double up as a living room or games room (I'm talking about games like pool and air hockey – gamers who would usually use a TV would get very excited about a home cinema set up).
Could I build my own home cinema?
It depends on your skills of course but without any specialist knowledge and all the right tools and manpower, it's unlikely.  The home cinema would usually be designed and installed by a specialist home cinema installation company and possibly interior and lighting designers and architects.  The acoustics of the room would be carefully controlled for both maximising the quality of the sound within and insulating the sound from travelling outside the room.
What about the cost?
A home cinema would probably cost more than a media room, but I'm guessing you've worked that out by now.  There can be an overlap of course but media rooms would be likely to cost £5000+ from scratch, a home cinema would start at around £25,000.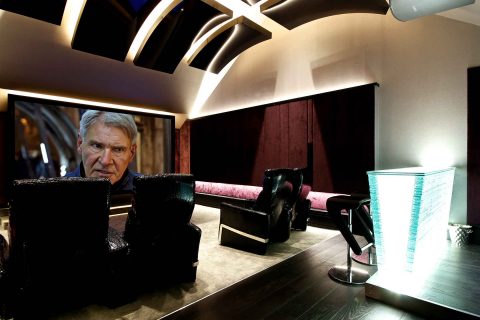 Let's look a bit closer at what you get in a home cinema
A home cinema would include:
Projector – A TV can get pretty big these days (98" is the biggest currently) and are seriously pricey but projectors can create an image much bigger than that for less.
Screen – when it comes to screens, quality is everything and the technology is constantly evolving with this.  You can pick the standard 16:9 or opt for a widescreen Cinemascope format.  There's also wall mounted or roll away to choose from.
Surround sound – with several skilfully placed speakers and at least one subwoofer
Specialist lighting – crucial for setting the atmosphere
Cinema seating – you're sitting there for at least 1.5 hours, so comfort is important to the serious film buff.  All the seats will be supremely comfortable and facing the screen.  The flooring is often tiered so everyone in the family has the best view.
Some optional extras may include:
Climate control – again, this is about making the experience comfortable, important that the temperature is kept at the perfect level
Automated shading – if there's a window in the room there needs to be perfect blackout shading and even better if it's automated
Lighting control – if you have lighting control properly installed then it adds that extra bit of luxury and convenience.  At the push of a button the lighting fades, blinds go down and film starts.  How cool is that?
Immersive seating – The seating can be pimped up to include 4D immersive technology.  This could mean tilting, vibrating, air/water spray – all synced with the audio-visual system to create a powerfully immersive experience beyond what you get even at the local cinema.
A TV room is different to a media room which is different to a home cinema.  I hope you can see the difference now.  Which you choose comes down to your budget for sure but also it depends on what you like to do to entertain yourself at home and the space you have available.
Clearly Automated is a Leeds/London UK based company that specialises in Home Cinema and Home Automation installations across the UK.
To see more of our work click here – if you have a question for us please email info@clearlyautomated.co.uk